And there were 3
Introducing James Edward Studeny III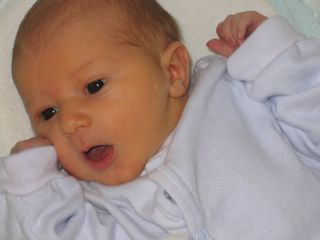 pebble 2

My great friends Rocky (James II) and Joanie continued the Studeny Legacy with the addition of a 7lb 14oz miracle. Descendant of the great Rockzilla and the ever-gorgeous Joanie, James III is appropriately nick-named Pebble.
I stopped by their house to introduce myself to the little fella, despite some well-placed concerns about how impressionable a 7 day-old baby might be. The first time he lights the coffee table on fire, I'll get blamed, but that's at least two years away.
Someone very clever bought little Pebble a couple jumpers that are sure to please the grandparents. One read, "Party at my crib, 3am" and the other, "I like boobs." I swear it wasn't me.
I had the pleasure of meeting the complete Studeny family at the baby shower months ago and I can say without a doubt that James III will surrounded by many impressive people of character. He's blessed to have been born into such a sensational family.
Rock, Joanie, I'm flattered to be regarded as an unofficial uncle. I'm pretty sure you won't regret it.