Hardest of the Die Hards
What do you do on New Year's Eve when the day before was 45 degrees, melting all snow? You grab your favorite golfing buddy and head to the golf course, of course! Not intimidated by 22 degrees and 20 mph gusts, my great friend Jason Schmitz and I layered up and played the TPC in Blaine. I really hope he'll someday forgive me for not correctly using his digital camera, as I recorded exactly none of the 20 attempts at taking his picture. Sorry Jason, I feel worse than horrible about it. I hope his 375 yard drive will serve as a consolation.
At least Jason and I were probably the only two people in Minnesota that can brag about having played golf on New Year's Eve 2004. I hope it starts a tradition.
While my red, white and blue Titleist golf bag with U.S. embossed American flags didn't expect to see daylight until at least April, it carried my main source of warmth and encouragement.

Imagine trying to implant a tee into your garage floor. Double that, and you'll get an idea how hard the teeboxes were. Teeing off the rough was the order of the day.

Bundled in 42 different layers of moisture-wicking material and wind-resistant Gore-Tex, I was still able to make a surprisingly full swing. My Israeli Defense Forces beanie served me well.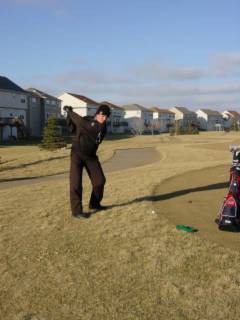 I tried to play this shot last August. It was much easier on New Year's Eve.